Quality control
Proficiency testing and reference materials for your quality assurance
Quality control
Mycotoxin testing imposes unique challenges to analytical laboratories. Complicated matrices, inhomogeneously spread contaminations, very low levels are just a few challenges to be met. The importance of choosing the right sampling, method, sample preparation and analytical method is obvious. The use of certified mycotoxin reference materials as well as mycotoxin quality control materials will strengthen your quality assurance in mycotoxin testing.
Trilogy® Analytical Laboratory is an ISO 17034 accredited producer of mycotoxin reference materials and offers certified reference materials as well as quality control materials for mycotoxin analysis. Trilogy certified mycotoxin reference materials are available as naturally contaminated products, which have been certified according to ISO 17034. These certified reference materials may be used for validating methods and instrument calibration. Certified reference materials are available for various individual toxins as well as multiple mycotoxins, in various matrices and levels of contamination. Please take a look at the available certified reference materials at the Trilogy® website. In addition, Trilogy® Analytical Laboratory produces ISO 17034:2016 Certified Reference Standards that are accompanied with an appropiate Certificate of Analysis including metrologic traceability. Have a look at the availabe mycotoxin reference standards.
In addition Trilogy offers mycotoxin quality control materials. Mycotoxin quality control materials can support your quality assurance on a daily basis. A mycotoxin quality control material is a naturally contaminated homogeneous product that contains a specific concentration of mycotoxin. Since these materials are naturally contaminated, they offer a more realistic tool than using spiked samples. These quality control materials can be used for a number of applications including technician training, trouble shooting, quality documentation or as a positive control during mycotoxin testing. Quality Control Materials are available in various matrices and levels of contamination. Commodities include corn and corn by products, wheat and wheat by products, barley and malted barley. Samples are available in 100 gram sizes. Find out more here!View Certificate of Analysis (CoA)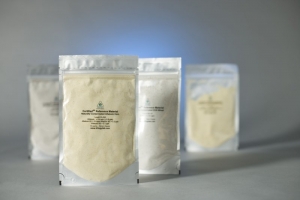 Allergen analysis is a field with a high demand for certified reference material. The most common technique for the detection of allergens is an ELISA test – a method which is very effective, easy to use and relatively cheap. Yet, comparability of measured results is difficult without reference material. Due to high demand, there have been continuing efforts to develop certified reference material also for allergen analysis. In 2013, the renowned MoniQA Association (International Association for Monitoring and Quality Assurance in the Total Food Supply Chain) launched a respective initiative. Since January 2017, the first validated reference material for food allergens is available at R-Biopharm. The portfolio, produced by Trilogy® Analytical Laboratory, includes four testing materials for milk allergen: a negative control, a positive control, a sample with low concentration of milk protein and a sample with high concentration of milk protein.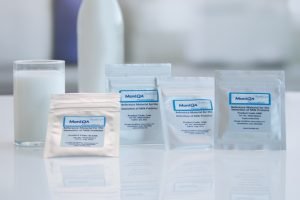 Proficiency testing will enable you to compare, monitor and improve your own laboratory performance against other laboratories worldwide. In cooperation with Trilogy Analytical Laboratory in India, R-Biopharm offers proficiency testing (PT) programs for mycotoxin analysis. Proficiency testing is one of the cornerstones of quality assurance and is also part of international standards like ISO 17025. Trilogy India is an ISO 17043:2010 accredited proficiency testing provider, offering PT programs for various microbiological and chemical parameters. You can register directly online at the Trilogy India website.