Producers of gluten-free food must comply with certain requirements in terms of labelling, manufacturing and analysis. From Codex Alimentarius to the AOECS standard and EU regulations: We have summarized the existing legislations – and recent resolutions you should be aware of in 2017.
Codex Alimentarius
The Codex Alimentarius is a collection of standards for food safety. It is jointly developed by the Food and Agriculture Organization (FAO) and the World Health Organization (WHO) with the objective to ensure consumer protection. The document is based on scientific knowledge and contains regulations for different aspects of food safety, including toxins, supplements, residues, microorganisms, GMO and food allergens. The standards laid down in the Codex Alimentarius are recommendations and not legally binding; however, many national laws are based on the Codex standard.
The document CODEX STAN 118-1979: Standard for Foods for Special Dietary Use for Persons Intolerant to Gluten is of particular interest to producers of gluten-free food. Among other things, the standard defines limit values for gluten. Accordingly, a product may only be labelled as gluten-free if it contains no more than 20 mg/kg gluten. Products containing more than 20 but less than 100 mg/kg gluten may be labelled as "very low gluten".
The AOECS (Association of European coeliac societies) is the European umbrella organization of national coeliac societies. Its member societies are licensing the use of the trademark-protected Crossed Grain symbol. Manufacturers that wish to use this symbol must sign a licensing contract. This will require high production standards and regular analyses proving that the products are gluten-free. Not all products can use the Crossed Grain symbol: In order to protect consumers from misleading claims, unprocessed foods which are free from gluten by nature, cannot use the "gluten-free" symbol. This includes, for example, fresh fruit and vegetables as well as eggs and milk.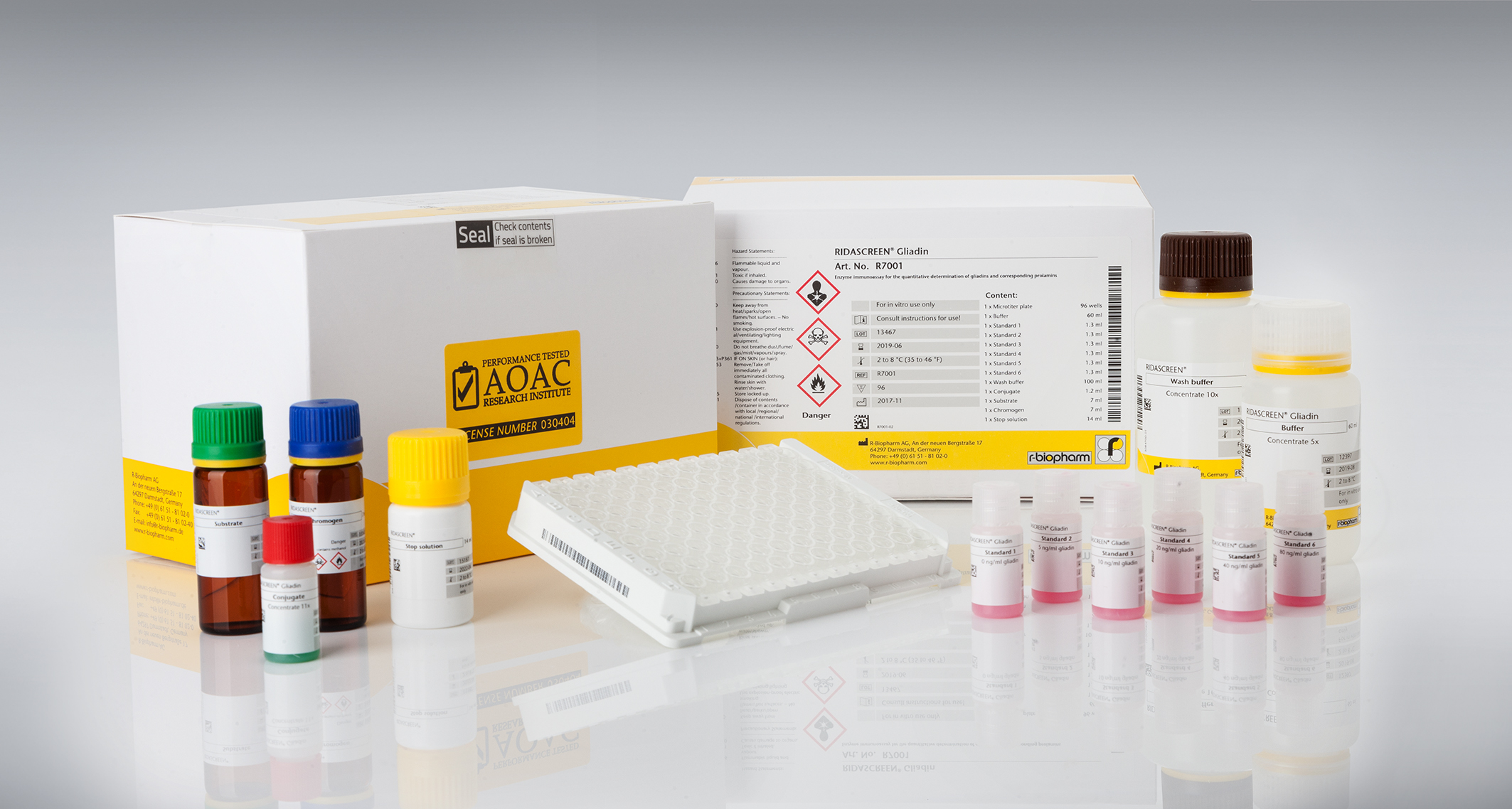 The AOECS regularly publishes the AOECS Standard for Gluten-Free Foods, which defines the technical requirements for the licensing of the Crossed Grain symbol. For example, it contains HACCP guides and statements on the analysis method to be used for the detection of gluten.
EU regulations
EU regulations are mandatory for all manufacturers which sell their products in the EU. The following laws must be observed:
Food Information Regulation / EU regulation No. 1169/2011: This resolution stipulates that information on potential allergens must always be provided to the consumer – even when the food is offered unpacked, for example in restaurants or bakeries. Previously, allergens had to be labelled only on packaged food.
EC regulation No. 41/2009: An important point in this document is the specification of Europe-wide binding limit values for labelling products as "gluten-free" or "very low gluten". It adopts the limit values defined in the Codex standard.
Implementing regulation No. 828/2014: This regulation became effective on July 20, 2016 and replaces regulation No. 41/2009. The paper now also contains rules concerning the use of the claims "suitable for coeliacs/people intolerant to gluten" and "specifically formulated for coeliacs/people intolerant to gluten".