News
Recent news in Food & Feed Analysis
/

RIDASCREEN® Bacitracin: Quantitative Screening...
Analytes
RIDASCREEN® Bacitracin: Quantitative Screening of Bacitracin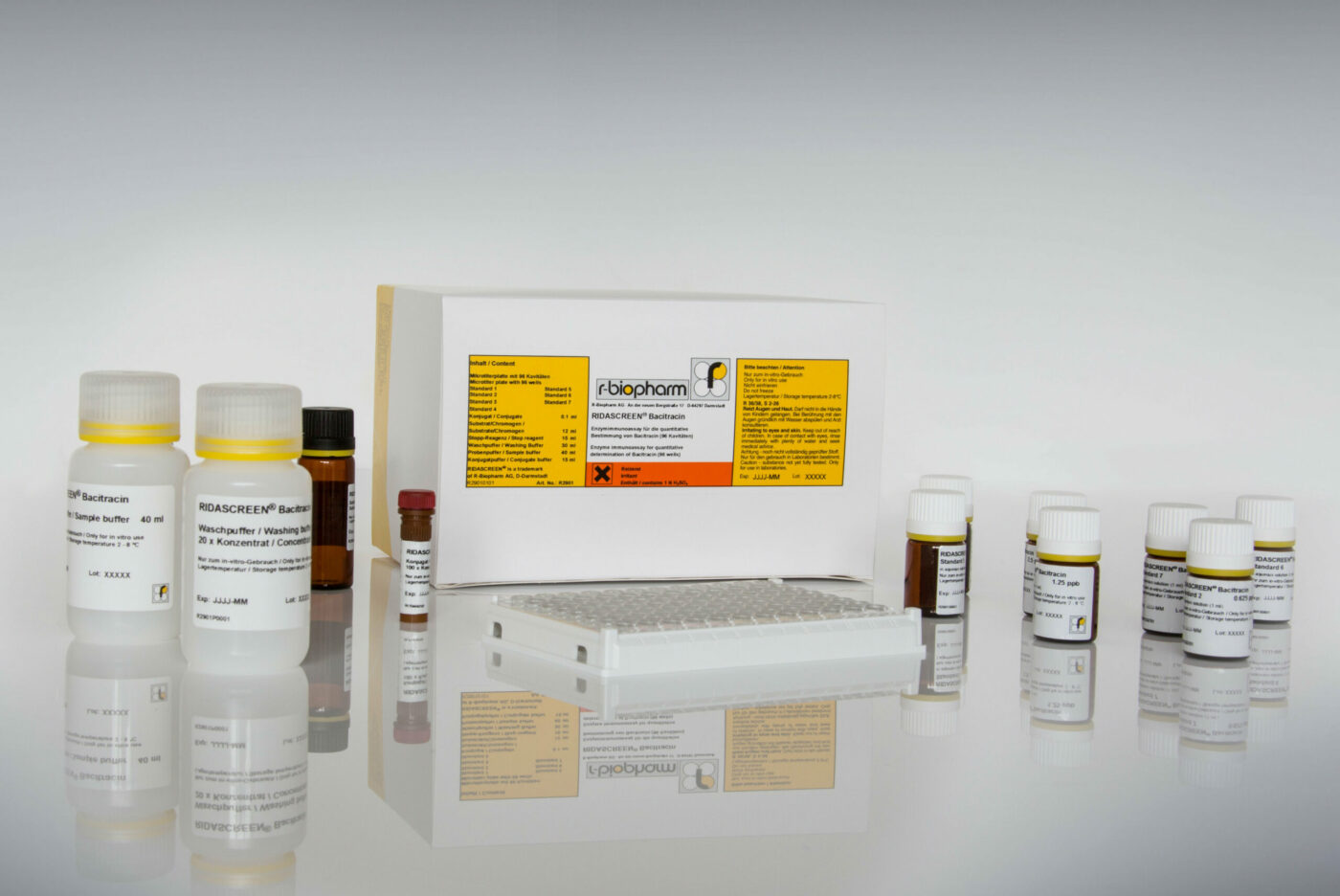 Screening test for bacitracin in milk, meat, eggs, feed and urine
RIDASCREEN® Bacitracin is a competitive enzyme immunoassay for the quantitative screening of bacitracin in milk, meat, eggs, feed and urine.The test kit contains all reagents required for 96 determinations. As the maximum residue limits of the European Union and the Russian customs union are within the standard range and the detection limits are below these regulatory limits, the test kit allows a sensitive and simple analysis at the same time.
The test has no significant cross reactivity to other antibiotics and is therefore highly specific for bacitracin. The results can be evaluated with the latest RIDA®SOFT Win / RIDA®SOFT Win.net (version: 1.86), which is available on request.
Background Information
Bacitracin is a broad spectrum antibiotic and belongs to the group of polypeptides. In addition to veterinary application, bacitracin can be used as antimicrobial growth promoter in animal husbandry. Veterinary drug residues in foodstuff of animal origin and the improper use of antibiotics which is promoting antibiotic resistance of bacteria may pose health risk for the population. Consequently, Bacitracin has been deleted by the Regulation 2821/98/EC from the list of approved animal feed additives (Directive 70/524/EEG Appendix B) and maximum residue limits in foodstuffs have been set in the European Union (bovine milk: 100 ppb) and in the Russian customs union (20 ppb in all food producing species).
For more information, please contact our international sales office: sales(at)r-biopharm.de