Christmas is just around the corner and R-Biopharm is getting into the Christmas spirit. This article is dedicated to a typical German Christmas tradition: the "Lebkuchen" (gingerbread).
When you think of Christmas in Germany, the immediate thing that comes to mind is probably the Christmas market, mulled wine and: Lebkuchen. This centuries-old traditional cookie is also known as honey cake, "Pfefferkuchen" or "Printen". The first precursor of the gingerbread – a cake sweetened with honey – was already made in ancient Egypt. Gingerbread in its present form is said to have been invented in the 15th century in the small Belgian town of Dinant. From there, it came (slightly varied) to Aachen and later on, it became known in Nurnberg and many other regions. Today, gingerbread belongs to Christmas just like the Christmas tree and Santa Claus. With our recipe, you can bake this delicious treat easily at home!
Homemade gingerbread
If you have ever eaten Lebkuchen, you know that the sweet and spicy taste is incomparable. The special aroma develops through a variety of flavors such as cinnamon, cloves, anise, cardamom, allspice, ginger, nutmeg, coriander and fennel. In terms of the other ingredients, one can distinguish between 2 types of gingerbread: German gingerbread with baking wafers and brown gingerbread (e.g. gingerbread men). Here we present a recipe for the traditional German "Elisen Lebkuchen". Here's what you need: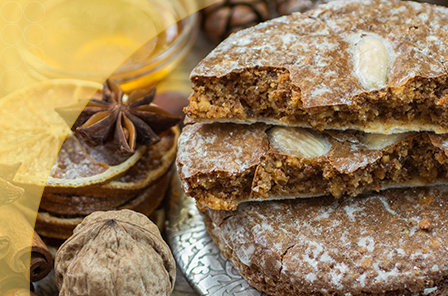 5 eggs
400 grams of sugar
200 grams of ground hazelnuts
200 grams of ground almonds
50 grams of chopped walnuts
100 grams of candied orange peel
100 grams of  candied lemon peel
1 package of vanilla sugar
1 teaspoon of grated orange peel
1 teaspoon of grated lemon peel
"Lebkuchen" spice, consisting of ½ teaspoon each of cinnamon, cloves, coriander, allspice, nutmeg and cardamom
Additionally, you will need 20 baking wafers (5 cm).
Beat eggs with sugar and vanilla sugar. Add finely cut candied orange and lemon peel, grated orange and lemon peel, nuts and spices. Beat the dough and let it chill overnight covered in a cool place. On the next day, spread the dough onto baking wafers. Place the gingerbread onto a baking sheet and bake it for about 15 minutes at 160 °C. Once cooled, the gingerbread can be covered with chocolate or sugar icing and decorated with almond halves.
Allergen-free gingerbread
The Elisen Lebkuchen doesn't contain flour and is therefore suited for a gluten-free diet, provided that you use a gluten-free baking wafer. If you can do without the chocolate icing, the gingerbread is also free of lactose. If you cannot tolerate nuts, you can try gingerbread biscuits or "Aachener Printen", which are traditionally nut-free.