News
Recent news in Food & Feed Analysis
/

Culinary herbs and spices...
Analytes
Culinary herbs and spices – between healthy lifestyle, food fraud, mycotoxins and hidden food allergens

Culinary herbs and spices are not only used for flavoring food. They may also come with other properties, such as antioxidative and bacteriostatic effects as well as certain pharmacological activities.In 2020, sales of spices such as ginger, curcuma or garlic, grew particularly fast due to the growing interest in the health benefits of spices, especially during the Covid-19 pandemic. Thus, the products most in demand are currently ginger, uncrushed pepper, dried capsicum or pimento, curcuma, cinnamon and cloves as these spices are perceived as contributing to healthy lifestyles.
However, due to their complex global supply chain and their high-value, spices and herbs are indeed particularly subject to potential food fraud.
Common spice adulterations include for example the addition of a lower value ingredient to increase the volume of product or emphasize one of its characteristics. This can lead to risk for consumers with a food allergy if a food allergen is used. Spices and herbs mayalso contain mycotoxins like aflatoxin and ochratoxin.
Did you know that?
Spice refers to the dried part of a plant such as seeds, bark, berry or fruit of a plant.
Herbs come from the green leaves.
India contributes 75% of global spice production.
Black pepper is the world's most traded spice.
Adulteration is not only an economic loss, but also a risk for human health.
[vc_row_inner css=".vc_custom_1647419688737{background-color: #e3e5e6 !important;}"][vc_column_inner width="2/3″]
Download whitepaper
"Herbs and spices – subject to food
fraud and allergen risks" for free

Learn more about:
Ingredients used to adulterate herbs and spices
European survey: herb and spice authenticity and the results


Adulteration or natural contamination?

Detection of potential food allergens in herbs and




spices using qPCR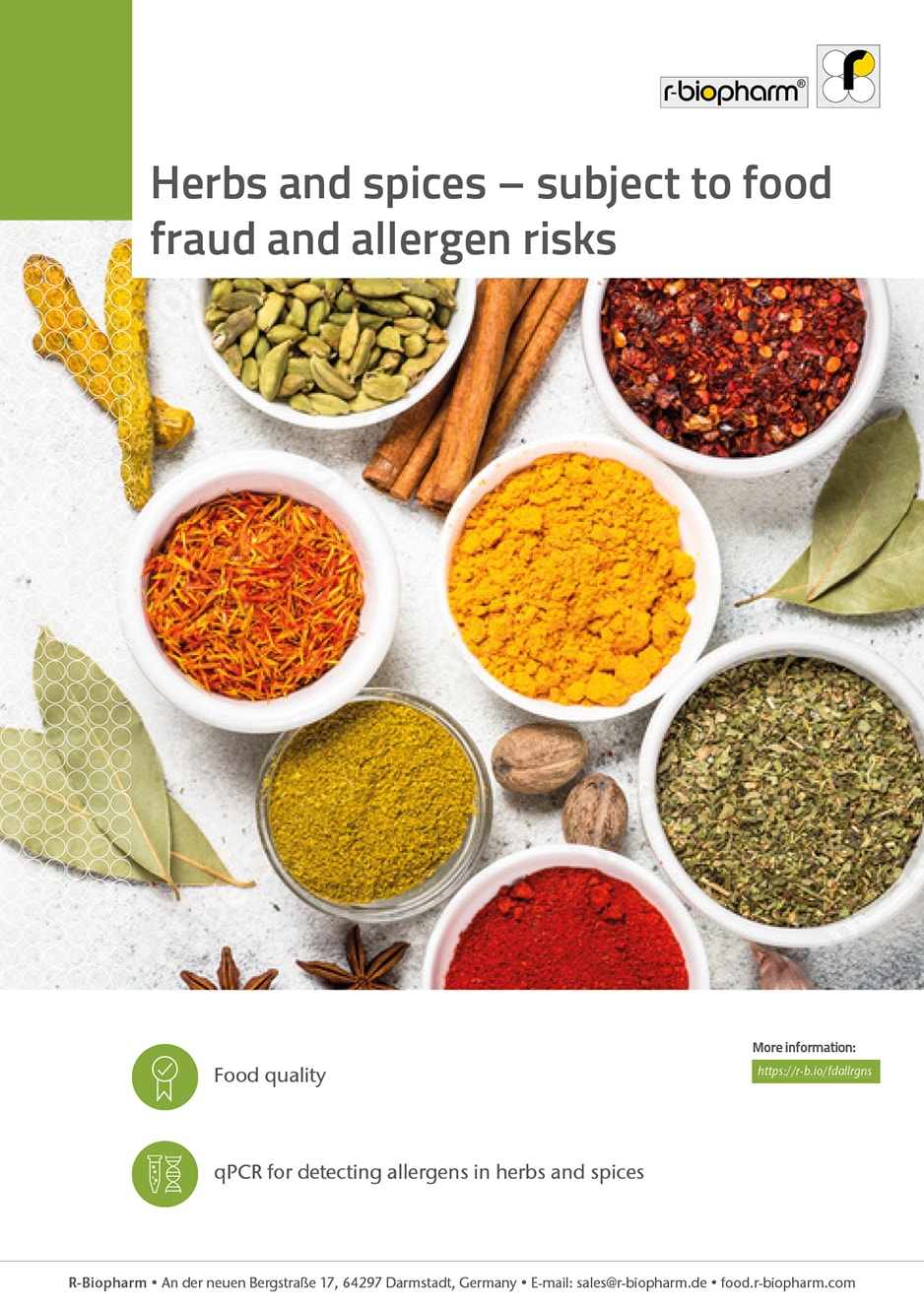 [/vc_column_inner][/vc_row_inner]