In mycotoxin analysis, the reliability of a test result depends not only on the test system used. Representative sampling and appropriate sample preparation have a much greater influence.
Mycotoxins are a major problem for global agriculture, with contaminations regularly causing crop losses. The decision whether a lot complies with the legal requirement or must be discarded, depends on reliable analyses. In general, there are three aspects that determine the reliability of an analysis: sampling, sample preparation and analysis.
It is important to not only focus on the analysis part. In our video, Ronald Niemeijer explains why:
For a sample to be representative, it should always be taken from multiple points of the lot and the sample quantity should not be too small. Implementing a sampling plan is essential.
The grind size matters, too. In order to get a lower variability, the sample should be finely ground. Our infographic illustrates the importance of this: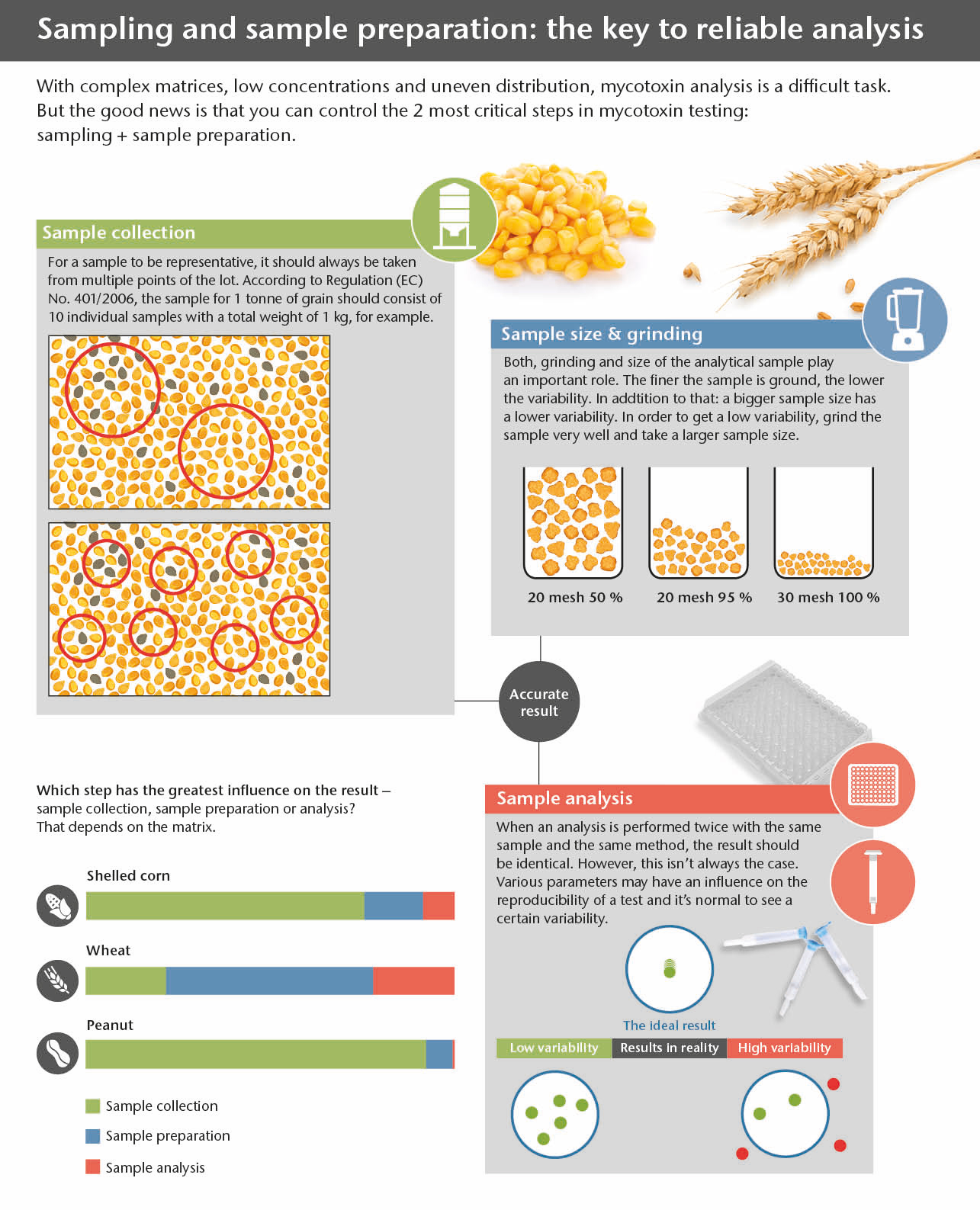 Because of the difficulties in mycotoxin analysis, quality assessment of the method used is particularly important. An effective tool for this is reference material – naturally contaminated material which contains a defined concentration of mycotoxins. Reference material is available for various matrices and parameters. Learn more here.
After sampling and sample preparation, the last step is the analysis. Make sure to use validated quality products. You can browse our test solutions for mycotoxins here.
Keep that in mind and you will get an analysis result you can rely on!
Get the whitepaper!
There's more! Download our free whitepaper to get more insights, scientific backgrounds and recommendations on sampling and sample preparation.
Please fill out this form to receive the whitepaper: