"Gluten-free", like "allergen-free", is on everyone's lips today. Even if foods are produced without allergens such as peanuts or milk or without gluten, they can be dangerous for allergy sufferers and patients with celiac disease. The reason for this is contamination. Test methods should therefore be integrated into an allergen management system. How should allergen management be structured to be efficient? 
The importance of allergen management is illustrated by this short story: A large bakery sells gluten-free bread. For this, not wheat flour but flaxseed flour is produced.
So far, so good. But during storage, the flaxseed flour is contaminated with wheat flour because it was stored openly and not separately. This remains undetected and the bread is baked. Only before delivery to the stores is it discovered through a test that the product contains traces of gluten.
Conclusion: The bottom line is that the company has lost money and resources have been wasted. If the contamination had not been detected by appropriate testing, consumers would have been exposed to a risk.
Allergen management is the best prevention. It is part of the HACCP concept, an internationally binding quality management system for food. The concept means that food is produced in a controlled manner not only at the beginning or end, but at every step of production. This can include testing for allergens.
What are allergens?
While most people (adults: 96-98 %; children 92-94 %) can eat these substances without hesitation, these foods, which have been subject to mandatory labeling since 2005, can be life-threatening for people with allergies.
Wheat
Milk
Eggs
Soy
Peanuts
Nuts
Fish
Shellfish
Celery
Mustard
Sesame seeds
Lupins
A special feature is gluten, a protein from wheat that is also found in rye and barley. In sensitive patients, this can trigger an allergy-like disease, celiac disease.
Interesting to know: Each country has its own allergen laws. In this table, you will find a representation of which allergens must be designated in the sample countries.
How does an allergen management work?
An allergen management includes 2 steps.
1st aspect
Material samples are taken to test whether traces of undesirable additives are present.
Our graphic illustrates at which stages of production this should be done:
In the procurement, transportation and storage of the raw material
In the production of the final product, plant cleaning and hygiene management, and incoming goods inspection
The testing of the product in the laboratory, in the trade and in commercial kitchens
Depending on the step, the environment and also the level of experience and knowledge of the producer and supplier, different tests are suitable (lateral flow, ELISA, PCR) – we will be happy to advise you.
Testing is especially important when food comes from abroad and certain allergens are not required to be labeled in the country of origin.
2nd aspect
The 2nd aspect of complete allergen management is the correct handling of the products and their environment. Materials containing allergens must be stored separately from others.
The same rule applies to transport and packaging. Cleaning the plant also plays an important role, for example, to prevent contamination via dust. It is also important to instruct employees to make them aware of the risk of contamination. Of course, this also applies to the suppliers; here, corresponding contractual regulations make sense.
R-Biopharm offers test kits for various parameters. Our graphic shows which tests (lateral flow, ELISA, PCR) we recommend for which production step. Our RIDASCREEN® Gliadin has also received approval as an official AOAC method "for food" – the first test worldwide.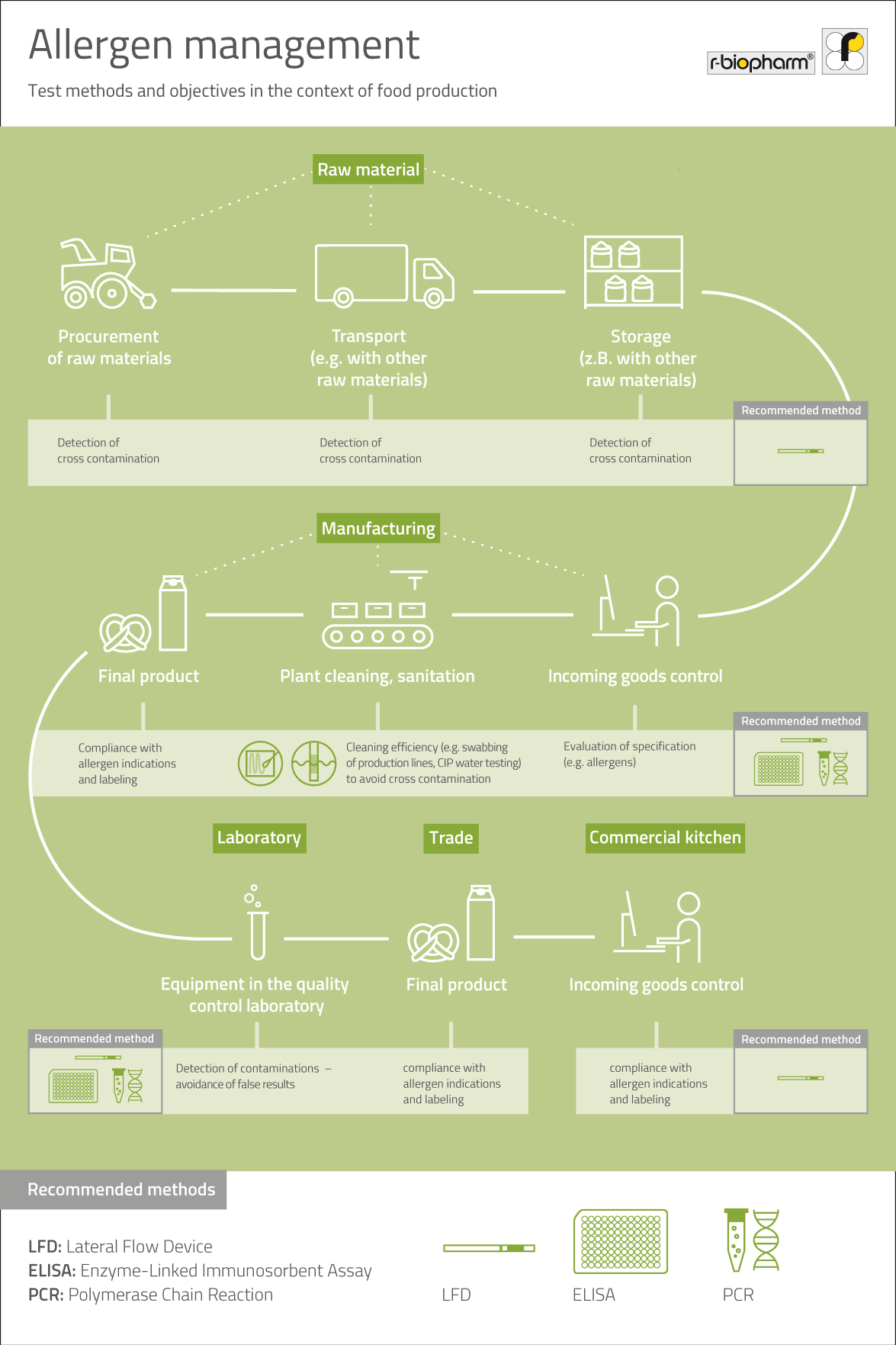 R-Biopharm answers your questions
Here you will find videos on how to use the tests correctly.
In addition, we will be happy to advise you on how to design your measurement procedure, sample selection, sample extraction as well as your allergen management as a holistic process.